Electronic Press Kit
This page is for the Media for Interviews or Headline News Stories:
You've found America's #1 Handwriting Expert – Bart Baggett. As seen on CNN's Larry King Live, Court TV, VH1, and Fox News Channel. Court Qualified. Credible. Ethical.

To Book Bart Baggett as a guest,
Text 310-614-6593
available Los Angeles and nationwide.
Go here to book a radio interview and get pre-written host questions
Book Bart Baggett now for your radio or TV Show. One of America's best on-air talents.
Bart Baggett has appeared on hundreds of radio and TV shows over the past 2 decades.
Press Information for Print, Radio, and TV
To Book Bart Baggett as a guest, Call 310-779-7224 
or 310-614-6593
available in Dallas, New York, Los Angeles and Nationwide.

Click here to book Bart Baggett now for your TV show or newspaper article.
Bart Baggett is Nation's Leading Handwriting Expert as seen on national and international TV news networks. For stories including forgery, handwriting, and criminal tendencies… Mr. Baggett is the media's first choice.
Bart has commented on the nation's leading criminal trials, forgery cases, and unsolved mysteries. He has appeared on over 1,500 radio / TV shows (CNN, Court TV, CNBC, etc). Mr. Baggett is the most TV and Media experienced handwriting expert in the world.
Why call anyone else and risk your segment or forensic case being legally wrong, technically sloppy, or boring?
Have Bart Baggett as a Guest on Your Show or as a feature in your next article. Full-length interviews available with handwriting samples and graphics emailed to you for an easy, visual, intriguing feature story. He has been the featured guest in the Wall Street Journal, USA Today, Biography Magazine, on Court TV, Fox News, CBS This Morning, Today Show, America's Most Wanted, Treasure Detectives, and even on CNN's Larry King Live. Bart Baggett Biography.
See his speaker reel here with more current 2017-2018 interviews and lectures.
Bart Baggett has become much more than an internationally recognized handwriting expert and professional speaker. He has become an entrepreneur influencing the media world, publishing industry, legal decisions, and the community of thought leaders worldwide. Bart owns 4 businesses and even makes time to appear in feature films and scuba dive once or twice a year.
A graduate of Pepperdine University, Bart is a court qualified forensic document examiner who's seminars and books include Forensic Science, Brain Research, Human Resources, Personal Awareness and Transformation.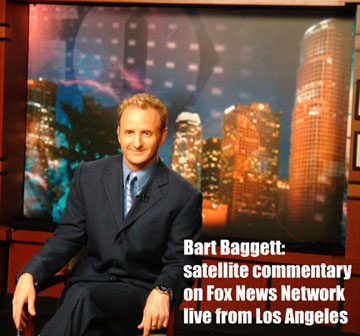 Bart is the Founder of The International School of Forensic Document Examination which trains and certifies handwriting students worldwide. He is also a highly sought-after professional speaker and talk-show guest. Bart is the author of 7 books including the Amazon #1 Best Seller Handwriting Analysis 101 and his 402-page self-help book: Success Secrets of the Rich & Happy – How to design your life with financial and emotional abundance.
Below is a recent talent reel highlighting Mr. Baggett's expertise in Forensic Handwriting Analysis:
Here is what radio and TV producers say about having Bart Baggett as your guest expert.
To all Producers, "Don't put it off any longer! Entertaining guests that intrigue listeners and generate phone calls are few and far between, so book Bart Baggett now. His handwriting analysis interview jammed our fax with samples from listeners and we fielded calls the next several days regarding his handwriting analysis kit.
Bart will be making several more appearances on our show over the next year and I encourage you to consider him for those horribly slow days when listener response is nil and let him make your job easier. Feel free to call for verbal references."Sincerely, Carmen Conners The Carmen and Chris Morning Show WSSR-Star 95.7 Tampa Bay, FL (95-00)Now in Minn, MN (01-current)
"Bart has been a regular guest on our show since 1995. We always get phone calls faxes and great listener response! As guests are concerned, he is a sure thing!"-Jonathon Monk, The Monk & Kelly Show Las Vegas, NV KOOL FM"
Comments"We turned to OUR handwriting Expert." CBS This Morning."A great guest. The whole studio was in stitches. We will definitely have him back again."– Lorraine Crook, Nashville, TN, Host – Crook and Chase Show
"Bart is hilarious and the handwriting thing is dead-on accurate. A wonderful guest." — Bob, Host – The Bob and Tom Morning Show Syndicated Nationwide"
Bundle of energy, intelligent, and very funny! We received hundreds of faxes, and the listeners loved him."— Greg Thunder, Host – KMPS-FM, Seattle
Comments"Bart was great. We tried to hold him over for more segments… funny and fascinating. The entire studio didn't want him to leave. Highly recommended!" — Monica Teague, Morning Show Asst. Producer – WGN-TV, Chicago, IL
Here's what they said: "You are the perfect guest."– Mark Summers, Talk Show Host – The Biggers and Summers Show, Lifetime Television, NY
"Bart makes my job easy! He's invited back anytime. Bold. Enthusiastic. Funny."– Jan Goldstein, Segment Producer – The Charles Perez Show – National TV